Our Discrete Residential Gate is the perfect option for those that want to fit into the background. If you want gates that match your fences, we are able to match the exact colour and style of wood. No matter the design we are on hand to design the perfect doors for you.
Not everyone wants to be seen. Many of our residential customers are looking to blend in. This residential installation included full perimeter fencing, which was built to match the metal-framed timber gates for a very discrete combination.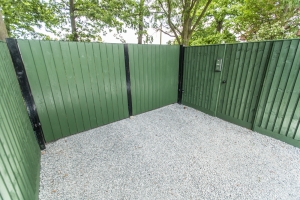 The Discrete Residential Gate is perfect for anyone who doesn't want to stick out. If you like the idea of people walking past not really knowing it's a gate and think it's more of a fence then this type of gate is the best idea for you.
The design and colour of the fence is up to you, you can match the colour of you pre-existing fences or you can change it to the colour of the scenery around you. It's completely up to you.
Check out our Facebook to find more
All gates can be designed to how you would like them so if you are interested. If you see a gate that you like and want to know more about it then please contact us if you are interested.