Interior Turnstiles, Gates, and Traffic Control.
We offer an extensive range of interior turnstile, gates and traffic control systems to suit any application and volume. Available at different heights including full height, half height and ¾ height to suit different commercial premises. We also supply interior turnstiles in a range of smart designs to complement the indoor aesthetic of the building. When choosing your indoor turnstiles you will have the option of multiple styles and finishes to provide your space with a more sophisticated appearance. They can even be tailored to reflect your company's style. Call today on 0117 978 6095 to learn more.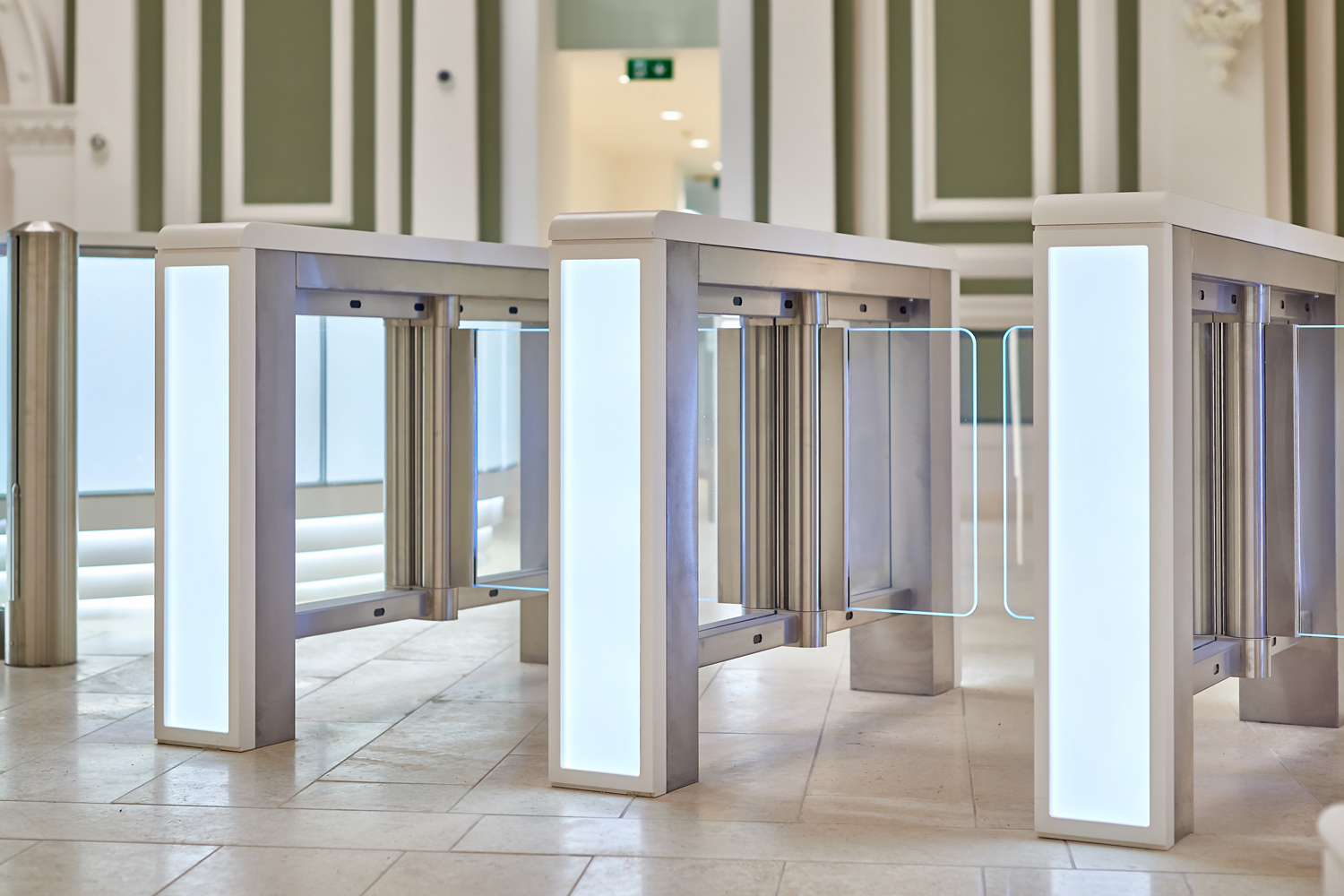 Indoor Turnstiles in Bristol, Bath & Somerset
Unlike our more heavy duty exterior turnstiles, our interior turnstiles are more suitable for indoor use, while still providing the high level of security offered by our outdoor installations. Our turnstiles are secure, reliable and simple to use, making them ideal for many high-security premises. They are very low maintenance, which makes them popular with our clients.
At Elex Gates & Barriers, we provide complete installation, repair and regular maintenance for our turnstiles. We also offer a comprehensive guarantee for peace of mind. Contact our friendly team today for advice and to discuss your interior turnstile requirements.
Our indoor turnstiles are designed to high specifications, offering smooth functioning combined with safety to provide seamless security and access control. Regulate the flow of people through your premises, prevent unauthorised access and create a welcoming entrance for your staff and visitors. An added benefit of indoor entrance turnstiles is that they help to prevent queues from forming, with quick, easy entry and exit, reducing the likelihood of queues backing up. Our turnstiles are suitable for pedestrians, including wheelchair users.
Indoor Turnstiles with Integrated Access Control Technology
Turnstiles from Elex Gates & Barriers are compatible with access technologies such as swipe and keycard entry, allowing you to scale up the security of your commercial property. To find out more about our different access control systems, visit our page on automation and entry systems.
See above for a recent project where we installed a sleek set of indoor turnstiles for some corporate offices in Bristol.
To speak to a member of our team about indoor turnstiles, or to arrange for a free quote, call us on 0117 978 6095 or complete our online form.